As an important exhibition of Oceanic art opens at the Royal Academy of Arts, we met with the show's co-curator and Director of the Museum of Archaeology and Anthropology, Nicholas Thomas, to discuss his personal highlights, global collaboration and the challenges of mounting an exhibition on this scale.
What can visitors to the Oceania exhibition expect to see?
The exhibition offers a revelation – of extraordinary works of art from across a great region of the world, a region neglected by art institutions in Britain and more generally in Europe. The art traditions of Oceania are magnificent, and extraordinarily diverse. The works shown range from canoes and spirit canoes through masks and figure sculptures of ancestors and deities to delicate personal ornaments. The works range chronologically from the prehistoric period to the present, but were mostly created from the late eighteenth century onward, reflecting the vigour of European collecting and the richness of artefact collections across the European museum collections the exhibition draws upon.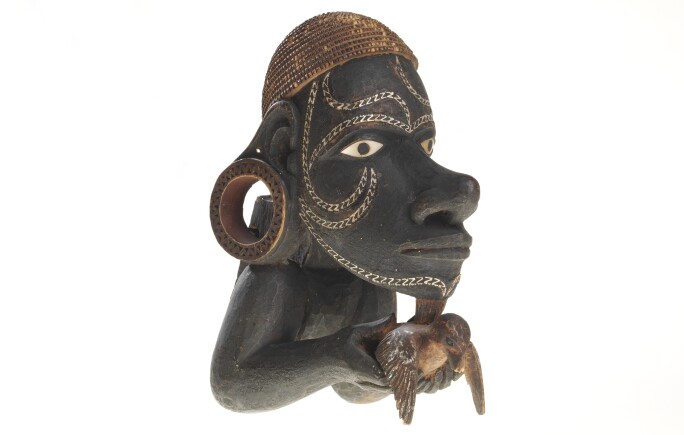 Canoe Prow Figure Nguzunguzu; Wood, Pigments, Resin, Shell. Marovo Lagoon, New Georgia Archipelago, Solomon Islands; Collection Eugen Paravicini 1929. Museum Der Kulturen Basel. Photo: Derek Li Wan Po; 2013; All Rights Reserved.
The objects in the exhibition span 500 years of Oceanic art, including works by contemporary artists. What can be learned by looking at these works alongside more historic pieces in the show?
The exhibition reflects a sea-change in scholarship on the art and history of Oceania. The field has been increasingly energised by dialogue involving Islander artists, scholars and community members. The exhibition is not just an expression of the curators' expertise – though it does draw upon many years' study of collections, and fieldwork in various parts of the Pacific – but amounts to a realm of dialogue. The contemporary artists in the exhibition offer their own perspectives on heritage and cross-cultural contact across the Pacific. They are co-interpreters of the historic works which the show features.
Tooi [tuai], Drawing of Korokoro's Moko, 1818. Sir George Grey Special Collections, Auckland Libraries.
There are many themes explored in Oceania – from migration and trade, to religion and ritual; from the legacy of past colonialism to the present threat of climate change. How did you decide what to include, and how to categorise these diverse strands?
The exhibition indeed addresses large themes, but they form a single story, that responds to a unique dimension of the region's history - it is the only part of the world settled primarily by water, through voyaging across the ocean. Voyages reach destinations and people then settle and make places. Making place involves the construction of houses, of social and ritual precincts, and the commemoration of each community's founding ancestors. Oceanic history has been defined by encounter – by contacts among Islanders and since the eighteenth century by contacts with Europeans, and with the contradictory history of empire – that has been marked both by appropriation and by the exchange of gifts, by violence but also by creativity and invention.
The curatorial process was challenging because of the extraordinary numbers of remarkable works we encountered in museums and especially in their stores. Those institutions each hold hundreds of outstanding works from Oceania, many unknown masterpieces among them. We had to choose works that related to the themes we were working to represent. We aimed also to include works whose histories were documented, about which we could tell specific stories.
Tene Waitere, Ta Moko Panel, 1896-99. Te Papa. Image courtesy of the Museum of New Zealand Te Papa Tongarewa.
The exhibition marks 250 years since Captain Cook's voyage to the South Pacific. What are the challenges when dealing with art from colonised territories? Do any delicate issues arise during the selection process?
Ethnographic collections are notoriously controversial. It is wrongly assumed that the bulk of material was looted. In the case of Oceania the circumstances of acquisition are often well documented and it is clear that most of what is in museums was bartered or bought on terms considered reasonable at the time, by Islanders who were in effect making their own collections. That said, Islanders from across the Pacific have been enormously supportive of the project, and welcome an ambitious and high-profile exhibition, that is, first and foremost, a celebrations of the arts of Oceania.
Ahu Ula (Feather Cloak) Belonging to Liholoho, Kamehameha Ii., Early 19th Century. Feathers, Fibre, Painted Barkcloth. Courtesy of Museum of Archaeology and Anthropology, University of Cambridge.
There are some exceptional objects in the exhibition, such as statues of gods and ceremonial items. Is there a piece that has particular resonance for you?
There are many, many works that are favourites of mine for a variety of reasons. It was wonderful for the Museum of Archaeology and Anthropology to be able, with Art Fund support as well as a grant from the V&A Purchase Fund, to be able last year to acquire a beautiful painted barkcloth of the church at Titikaveka, on the south coast of Rarotonga in the Cook Islands. So far as I know, this is the first representation of a Christian church by any Pacific Islander. It perfectly exemplifies the sense in which people across Oceania did not simply 'convert' but made an alien religion their own.
There are works that are intriguing from many perspectives. The great Aiaimunu mask from the Papuan Gulf, lent to the exhibition by the National Museum of Ireland, deploys the principle of figure-ground ambiguity as dynamically as any work in world art history, from any place or period.
Female Tattooed Figure, Eighteenth or Early Nineteenth Century, Wood and Pigment, Aitutaki, Cook Islands. © Five Continents Museum, Munich; Photo: Marianne Franke.
In the Royal Academy's 250th year, there is a renewed emphasis on it being a new home for art and ideas. How does this exhibition fit it in to that ethos?
Oceania is not only a region but also an idea and a particular imagination – of the kind of art and sociality that emerges from voyaging, from islands, from connections among people who voyage between islands. It is an exhibition that foregrounds relationships, and significant dimensions of British and European history – the treasures in the exhibition are in European museums, only because navigators such as Cook, missionaries, anthropologists and others travelled to the Pacific. Those histories need to be retold – they have enduring legacies today.
A one-day symposium, Imagining Oceania: contesting histories, creating futures, will be held on Thursday 27 September at the Royal Academy of Arts. In addition, a two-day course on the same themes led by Dr. Kathryn Brown will consider the relationship between European western art and its traditions, and that of traditional and contemporary art of the Pacific islands. The weekend course will take place on 13-14 October. You can find information on both events here.
--
Oceania is on view at the Royal Academy of Arts from 29 September to 10 December 2018