Exhibition Overview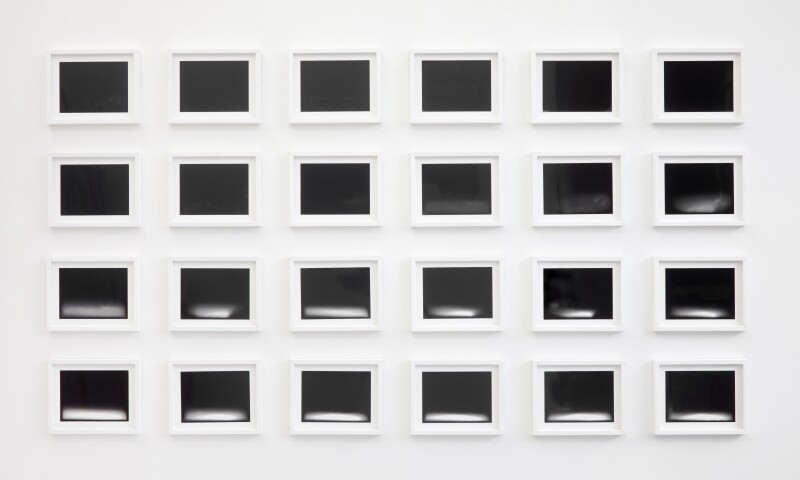 Runo Lagomarsino, Crucero del Norte, 1976-2012, 24 exposed photographic papers.
The Dallas Museum of Art presents Concentrations 61: Runo Lagomarsino, Entremundos, the first US solo museum exhibition for the conceptual artist. The exhibition, which is on view September 30, 2018, through April 14, 2019, explores the unstable nature of national identities and mythologies through the transformation of everyday objects and phrases into historically referential works of art. With these deceptively simple transformations, Lagomarsino points to the volatile relationship between power and geography.
Concentrations 61 spans two galleries and features new commissions and previous works specifically reconfigured for the DMA. The first gallery references colonialism and its reverberations throughout the Americas; the second has resonances for the current political turmoil in the United States and beyond. The subtitle of the exhibition, Entremundos ("between worlds" in Spanish), evokes how Lagomarsino's work cannot be tethered to fixed identifying or spatial markers. Instead, his language is often abstract or universalizing, implicating us all in a constellation of the constant movement of people and things.
"Lagomarsino's work exposes the power dynamics involved in who gets to claim themselves as native, as Western, or as American, and how these distinctions are ultimately arbitrary and in flux," says Anna Katherine Brodbeck, the DMA's Nancy and Tim Hanley Associate Curator of Contemporary Art and curator of the exhibition. "Lagomarsino responds specifically to the legacy of European colonialism and his own family history of exile during Argentina's military dictatorship in the 1970s. But these old histories hold new lessons for the current political climate in the US, characterized by travel bans, border walls, battles over the rights of indigenous people and the protection of natural resources, and a grappling with confederate history in the wake of a resurgence of white supremacism."
Born in Lund, Sweden, in 1977 to Argentinian parents descended from Italian émigrés, Runo Lagomarsino's biography charts the very colonial histories that his work examines. Lagomarsino currently lives and works between Malmö, Sweden, and São Paulo, Brazil. He received a BFA from the Göteborgs Universitet Akademin Valand in 2001, and an MFA from the Konsthögskolan i Malmö, Sweden, in 2003. He subsequently participated in the Whitney Independent Study Program, New York (2007–08). His work has been exhibited in group shows at the Guggenheim, New York; the Los Angeles County Museum of Art; the Museum of Contemporary Art, Chicago; Prospect.4 New Orleans; and the Venice Biennale, among others. For more information about the artist, visit RunoLagomarsino.com.
(Image courtesy of Erling Lykke Jeppesen, Collection Lena and Per Josefsson, Stockholm)